All About Home Insulation & Installation
All About Home Insulation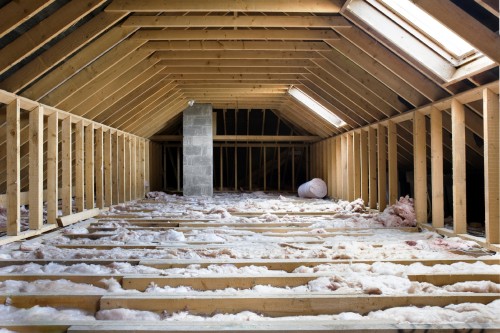 Home insulation is important to keep monthly costs down. Rising summer temperatures are more than likely causing your home's A/C unit to run more often and parts of your house, especially the upstairs, may still feel warm. These hot months are a great time for some simple DIY home insulation projects that will have huge payoffs – not only now but in the winter as well.
According to the North American Insulation Manufacturers Association, 90 percent of U.S. homes don't have enough insulation. Adding insulation to your home is an easy way to save money year round – as much as 10-50 percent. Here are some tips to improving your home's insulation yourself.
Types of Insulation:
Fiberglass Insulation: Fiberglass insulation is one of the most popular  types because of its low cost as well as its ease of insulation. It comes in batts and rolls and fits in the stud and joist spacing in most homes. Make sure though that you have proper coverage so there are no gaps, especially with batting.
Ridge Foam Insulation: Another DIY  option is rigid foam insulation which can be used throughout the entire home including walls, floors, ceilings and foundations walls.
Where to Install:
Installing insulation in key areas of the home are key from losing warm air in the winter or cool air in the summer. Here are some prime places to make sure are well insulated and sealed.
Knee Walls: Knee walls are short walls with attic space directly behind them. These walls commonly are missing home insulation and are a key spot for heat loss.
Garage Doors: Most garage doors are also not insulated. This is a common area for heat gain or heat loss. Garage door insulation kits are available and are designed to easily fit onto the door.
Above Garages: Not only are garage doors not properly insulated, but the space above a garage is often not properly insulated. If you store anything in your garage this can cause damage as well as causes a reduction in the energy of a second fridge or freezer.
Gaps below the drywall: Remove the baseboards and fill the gaps with non-expanding insulating form.
Plumbing in floors: Seal the penetrations with non-expanding insulating foam.
Recessed lighting fixtures: Remove trim pieces and seal the edges with caulk.
These DIY tips will not only save you money but will also increase your home's structural integrity.
If you are having a new home built, talk with your home's builder about the insulation they are putting in. You should be assured the strategy will contribute to a comfortable, efficient home.
Thinking about buying or selling a home? Let us be your resource for local real estate information.