Latest DFW Real Estate Market Report
Latest DFW Real Estate Market Report
With its central location between the east and west coast, Dallas-Fort Worth has certainly been an ideal location for businesses to set up shop for many years. In fact, DFW is home to over 10,000 corporate headquarters making the DFW Metroplex the largest corporate headquarter concentration in the United States! Earlier this month, Forbes Magazine acknowledged the vast amount of Fortune 500 companies housed in DFW and ranked Dallas in their "Top 10 Best Cities for Job Seekers".
With a 5 year annual job growth rate estimated at 2.8%, increase in employment will certainly affect our local housing market in Tarrant County. Provided by The Real Estate Center of Texas A&M University, below we have provided a quick snapshot of DFW employment rates and how the trend is currently affecting DFW real estate.
DFW Employment is Growing
In the last 12 months, employment gain in DFW increased by 2.5%.
DFW unemployment in the last 12 months is currently at 5.6%.
DFW Median Sales Price
Prices continue to set new highs with double digit growth in prices YoY.  The price ratio of new homes to existing homes has remained constant over the last 13 months.
Existing home prices in December were at an average of $167,000 in DFW. This is an increase of .9% month over month, and a substantial increase of 11% year over year.
As for new home prices, the average selling price in December was $259,000; up .8% month MoM and up 10% YoY.
DFW – Existing Homes for Sale 2007 to 2013
Existing home inventory is currently at a low at with roughly 21,500 homes on the market at the end of December 2013. This figure is down 15% from November 2013 and down 18% from December 2012. This decrease in inventory has lead to an increase in sales, and adding a healthy return on profit for many homeowners who are deciding to list their property.
DFW – Sales of Existing Homes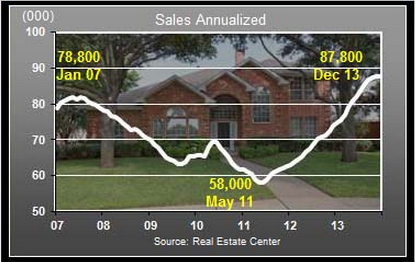 In December 2013, 87,800 homes were sold; up .2% from the previous month and up 18% from 2012.
Annualized sales are up 34% over the last 48 months.
Sales have been increasing steadily since May 2011 from 58,000 to 87,800 homes sold.
DFW – New Homes for Sale 2007 – 2013
New home inventory grew 10.4% from 2012-2013, however looking MoM, new home inventory was down by approximately 1.3% or 37 homes in December of 2013.
DFW – Sales of New Homes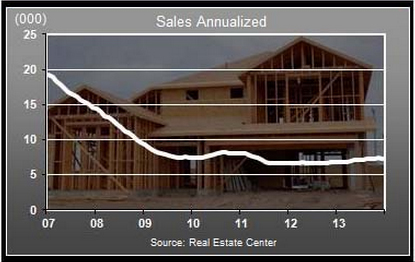 Over the last year new home sales have ranged between 6,800 to 7,400 monthly on an annualized basis.
In one of the best real estate markets in the country, new home sales have experienced modest growth over the last 2.5 years.
Median Price of Homes Sold in NE Tarrant County
The average Northeast Tarrant County home sold for 184,500; up approximately 5% from last year or an addition of $9,500.
If you have any questions regarding the information presented above, please call our team! Minteer Real Estate Team prides itself in being local area experts and we were recently distinguished as the #1 Keller Williams Branch in Northeast Tarrant County. So whether you are looking to buy or sell in our market, we are certain you will find a confident partnership with Minteer Real Estate Team! 817.481.8890 | info@minteerrealty.com